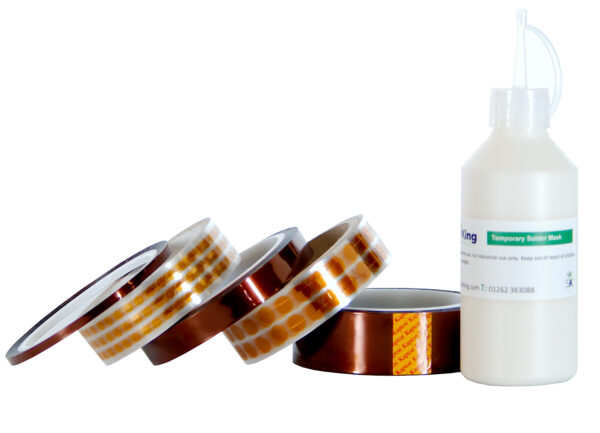 Kapton® Tape & Dots 
Kapton® tape and dots are used as an insulation tape for extreme temperatures. It has excellent resistance to thermal radiation, making it ideal for masking gold edge fingers and edge connectors during reflow and soldering applications. Solderking Kapton® Tape is available as tape and dots and in many sizes:
Kapton® tape – 3mm, 6mm, 9mm, 12mm, 15mm, 19mm, 25mm, 50mm.
Kapton® Dots – 4mm, 6mm, 9mm, 12mm, 25mm.
Versatile masking product.
Suitable for a wide range of uses.
Resistant to a wide range of solvents.
Excellent electrical and physical properties.
Available in many different sizes.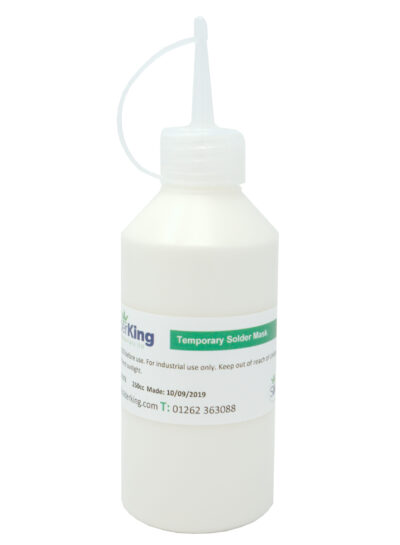 Temporary Solder Mask
Solderking Temporary Solder Mask is a fast curing latex type solder masking agent. The Solder Mask is supplied in a 250cc squeeze bottle and easily applied to pins and contacts to protect during the wave soldering process. Suitable for both RoHS Compliant and Leaded Soldering.
Fast Drying
Suitable for Leaded and Lead Free 

Solder

ing
Leaves no residue
250cc Squeeze Bottle
Easily applied
RoHS & REACH Compliant
Want to know more about our full range of insulation and solder masking products, fill in the form below.