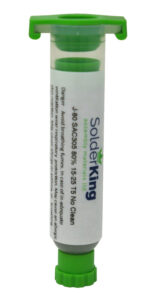 J-80 SAC305, 15-25µ
m
T5
The SolderKing J-80 SAC305, 15-25μm T5 is a no clean, lead free jet dispensing solder paste formulated for excellent performance. The J-80 provides users with uniform dots as small as 220μm and exhibits exceptional results when operating at high speed.  High Reliability solder paste flux type ROL1 to J-STD-004B and defect free soldering of even the most difficult to solder components and board finishes.
High reliability solder paste flux type ROL1 to J-STD 004B
Uniform Dots of 220μm
Powerful wetting on all board finishes
Reduces or eliminates voiding
Shiny joint finish, Clear minimal residue
Long tack times
6 months refrigerated shelf life
Made in the UK
If you want to know more about our Jet Dispensing Pastes, fill in the form below.